​The Tonga Chamber of Commerce & Industry (TCCI) in partnership with the Ministry of MEIDECC and Tonga Development Bank, through its Project Management Unit (PMU) for the Green Climate Fund – Readiness Programme has been reaching out to all Private Sector businesses in Tongatapu since October 2021 to discuss one looming topic that is a real threat to our way of life: CLIMATE CHANGE, specifically its impact on private sector businesses.
Leading the PMU in this excursion is the President of TCCI; Mr. Sam Vea, and in partnership with the Ministry of Trade & Economic Development (MTED), planned and organized a 2-day discussion with local business owners regarding current issues they face and a 1 day Forum addressing climate change impacts. These discussions were organized with several goals in mind:
For TCCI and MTED: Tonga Chamber of Commerce & Industries with MTED can begin a dialogue with Vava'u business owners operating in Retail, Agriculture & Tourism sectors to draw out current issues they are contending with and foster close working relations.
For Business Link Pacific: Create awareness of services provided by Business Link Pacific and how it can assist Vava'u businesses.
For the PMU: to understand the real impact climate change has on Vava'u businesses and evaluate as to the barriers that businesses are facing with regard to investing in climate safe technologies/techniques/practices.
Beginning on June 15th Mr. Sam Vea, the PMU team, Business Link Pacific Coordinator – Ms. Sonia Lea & Fololenitina Asau (Officer in charge MTED Vava'u) welcomed business owners and associations at the MTED Vava'u Conference room where discussions began on some of the challenges that businesses face in their respective sector.
Matters with regards to the effectiveness and procedures of Governmental assistance, loan scheme, business licenses, product quality & inspection, exporting market availability, the need for training and awareness and rising oil prices were some of the issues brought forward and noted down. ​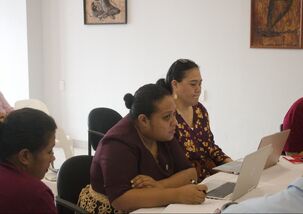 This gave an opportunity for Ms. Fololenitina Asau to discuss some of the concerns regarding governmental procedures and limitations and concluded with Mr. Sam Vea encouraging business owners to network more closely with each other and that they will be able to accomplish more in their respective markets by working together.
The issues will be worked into the TCCI workplan in advocating for change and providing training and capacity building that will help with their needs.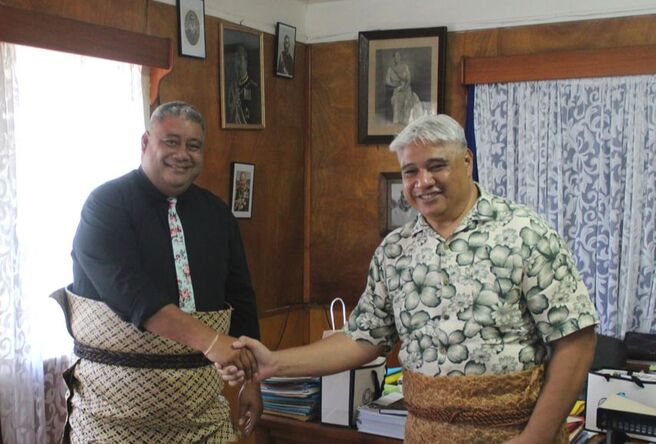 In rounding off the planned discussions, a Green Climate Fund Private Sector Forum was held on June 17th at the FWC Fakamelino Hall where Climate Change Officers from the Ministry of MEIDECC arrived in Vava'u to aid the PMU in educating business owners on project funding opportunities (and processes) that are available from the Green Climate Fund in helping private sector businesses adapt to current changes in our climate and/or mitigate its effects.

Many business owners have had to contend with the adverse effects of climate change on their establishment on their own for many years and many concerns were brought forward, discussed and recorded so that the PMU can return with the data collected to develop a project proposal that in due time would address these climate concerns.
Participants were divided into groups and encouraged to discuss and share their ideas on what actions that are needed to be taken to address the climate impacts they face.
Of the many things discussed participants expressed a greater desire to have more awareness programs on climate safe techniques and technologies in farming, conservation of marine life in helping them transform Vava'u into an Eco-Tourist destination.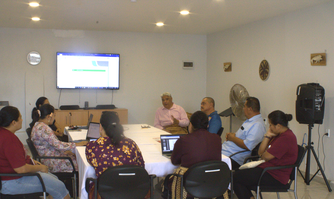 Concerns were expressed as to the estimated timeline of when their ideas can be developed into a funded project and implemented, but as assured by the President of Tonga Chamber of Commerce, Climate Officers of the Ministry of MEIDECC and the Program Manager of the PMU- that with a little patience, persistence and collaboration; the millions (USD$) available from the Green Climate Fund to tap into will be able to sustain the work and the number of years needed to create an impactful and lasting change.