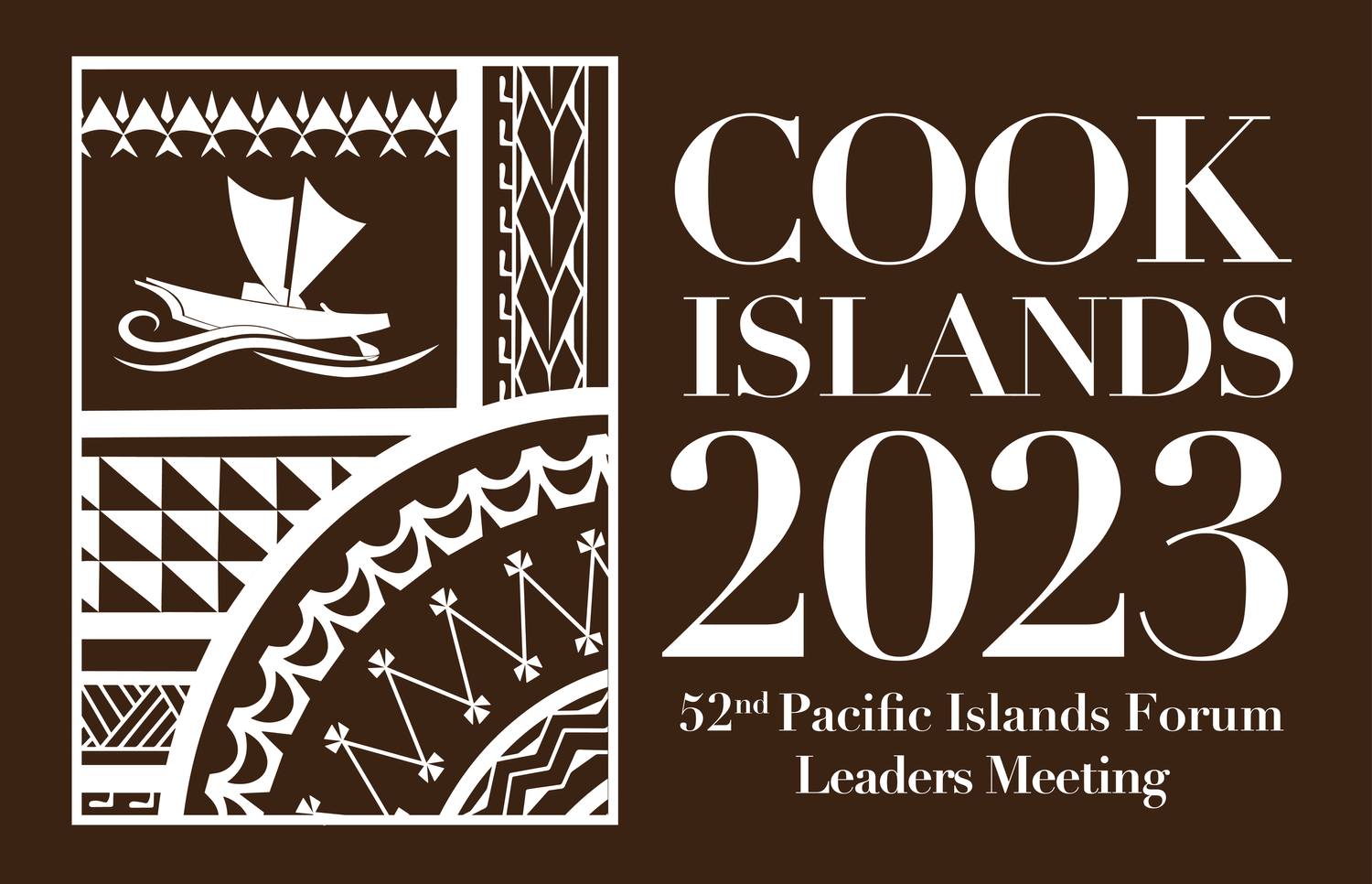 52nd PACIFIC ISLAND FORUM LEADERS MEETING
6th – 10th November 2023 | Cook Islands
TCCI will participate at the upcoming Pacific Island Forum (PIF) leaders meeting in the Cook Islands, and in particular to join the Pacific private sector organisation plenary on Thursday 7th in order to discuss mutual themes that are of benefit to each country and for the region as a whole. This year's theme is "Our Voices, Our Choices, Our Pacific Way: Promote, Partner, Prosper".  PIF supports the 18 Forum Members to work together through deeper forms of regionalism in support of sustainable development, economic growth, good governance, and security. Its role is policy advice, coordination and ensuring the effective implementation of Forum Leaders' decisions, leading to tangible improvements in the lives of the people of the Pacific. Its key focus is on innovative, game changing initiatives for regional action. PIF promotes an inclusive regional public policy approach to arrive at proposals for Leaders to consider and endorse.

INFORMATION SESSION – BUSINESS LINK PACIFIC
18 October 2023; 1.30PM
Join us for the Business Link Pacific Information Session!
Date: Wednesday October 18, 2023
Time: 1.30PM – 2.30 PM
Location: Fa'onelua Convention Centre
Register NOW to secure your spot: click
here to register
Hosted by BLP (Business Link Pacific) and TCCI (Tonga Chamber of Commerce & Industry), this event is not to be missed!
Learn about business support grants
Discover how to access valuable advisory services.
Gain insights into Business Link Pacific's resources and support for businesses.
and much more!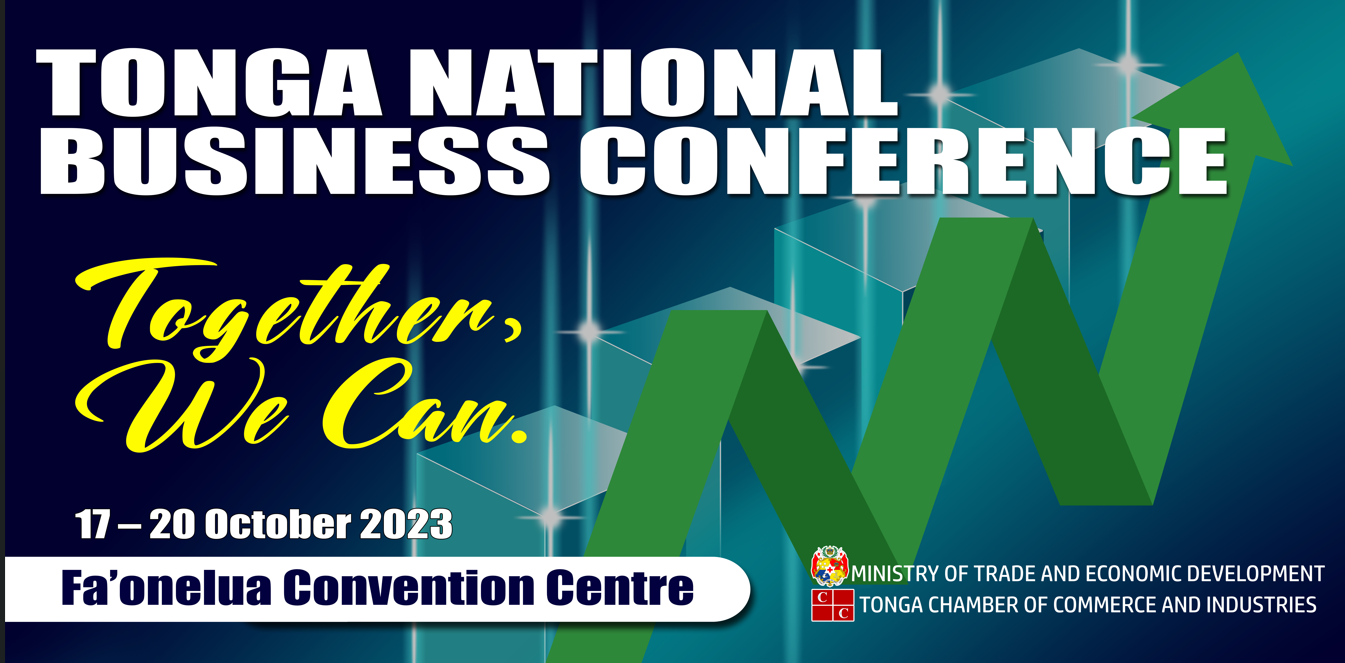 TONGA NATIONAL BUSINESS CONFERENCE 2023
17-20 October 2023
This annual event is hosted by the Ministry of Trade and Economic Development in collaboration with the Tonga Chamber of Commerce and Industry to facilitate collaboration, inform policy decisions, promote economic growth, address challenges, enhance transparency, and build relationships. It serves as a platform for national, social and economic development dialogue, problem-solving, and the development of policies that benefit both and the broader economy.
The Objectives of the Conference are to:
1. Carefully consider and provide suggestions to the Ministry of Trade and Economic Development regarding unresolved issues concerning trade, industry, and investment.
2. Enhance ongoing collaboration and confidence-building between the government and the private sector, with a shared focus on aligning their efforts to gain a deeper insight into the nation's development vision, policies, and strategies.
For more information, please contact TCCI or visit the Tonga National Business Conference website here.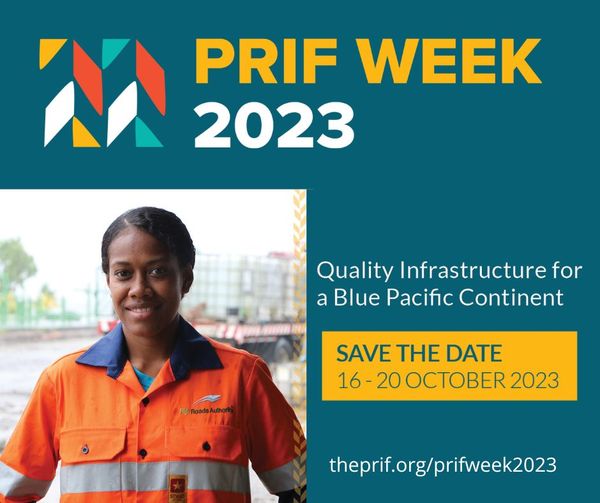 PRIF WEEK 2023
16-20 October 2023
PRIF Week will be a virtual conference held each morning/afternoon over five days. The conference will kick off at 11am Sydney Time; 12pm Fiji Time; 1pm Samoa and Tonga Time.
The Pacific region faces significant infrastructure challenges that are exacerbated by the impact of climate change and more frequent natural disasters. Like other regions, in the Pacific there can be sub-optimal infrastructure investment, which leads to poor quality builds, inefficient assets, unsustainable debt, limited local employment and economic opportunity, and compromised environmental and social benefits. These challenges need to be addressed, as the demand for investment in the Pacific is acute and growing, with the Asian Development Bank conservatively estimating the region's annual infrastructure needs from 2016-30 at US$3 billion.
PRIF Week 2023 will provide a unique opportunity for infrastructure stakeholders to get involved in engaging conversations on the topic of quality infrastructure. Join PRIF Week 2023 to deep dive, interact and share views in open dialogue with other practitioners in the infrastructure sector.
For more information, please contact TCCI today or visit the PRIF website here.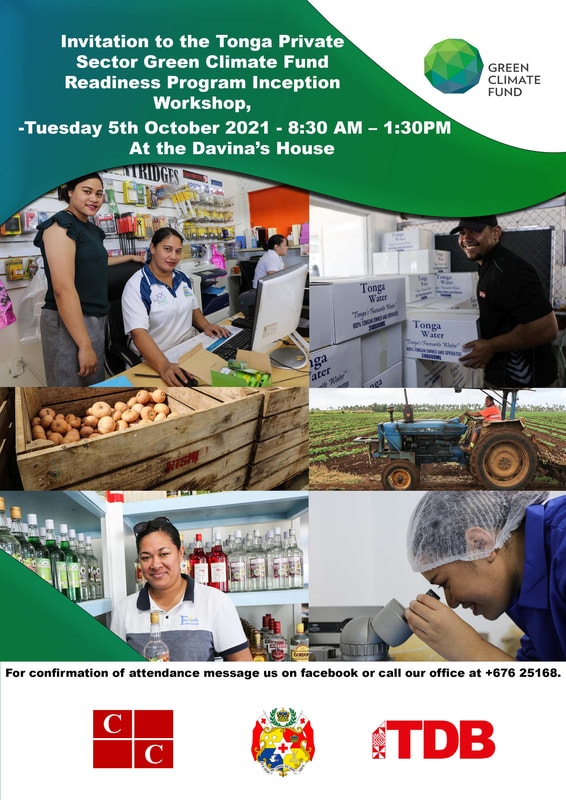 Inception Workshop for GCF Private Sector Readiness Program
The Tonga Chamber of Commerce and Industry Inc as the Implementing Agency to the Green Climate Fund GCF will hold an Inception Workshop on the: 5th Oct 2021 At the Davina House. 8:30am to 1:30pm. 
Tongan Business are invited to come participate at this half day event.
This event will also be the formal launch for the Private Sector Readiness Program, themed "Enabling Private Sector Access to Climate Finance to Strengthen Climate Resilience Development in Tonga".
Climate change has affected many businesses in Tonga, however, the private sector has limited knowledge about the GCF, and its engagement in climate change actions within Tonga is minimal. Given the climate change challenges facing Tonga, this readiness intervention is designed to build awareness and strengthen the private sector's capacity to engage with the GCF.
The Inception Workshop will shed light on how the Private Sector may engage with the GCF.   Tonga's National Priorities will also be discussed which cover mitigation on where Tonga stands moving towards green renewable energy or reducing emissions, cross- cutting remedies to strengthen preparedness and resilience and adaptation measures that will make agriculture, fisheries, water supplies and infrastructure more resilient to adverse climate effects.
Perhaps energy is an issue for your organisation, reoccurring infrastructure damage, or you are a farmer whose produce is affected by the changing climate.  The GCF could provide you with assistance provided your solutions are aligned with the Tonga Country Program and the GCF's investment criteria.
This workshop will be the beginning of the Project Management Unit's quest to share information with Tonga's Private sector and how high quality concept proposals should be prepared to access the funds.
This workshop is openly inviting all Tongan Business Owners or their representatives.  Please get in touch with the TCCI office at 251 68, or send a message to facebook.com/chambertonga to reserve a seat.